Profound Discoveries related to testing for, grading and even setting direction of treatment for Medical Diseases: in this instance the Retinal Diseases; Glaucoma, Macular Degeneration and Retinal Aligned Systemic Diseases HTN, and Diabetes take years to formulate and come to fruition: meaning they do not grow on trees and always requires persons who THINK OUTSIDE THE BOX. Maybe they are gifts from those who dwell outside the boundaries of our galaxy and are left on the doorsteps of SAID THINKERS.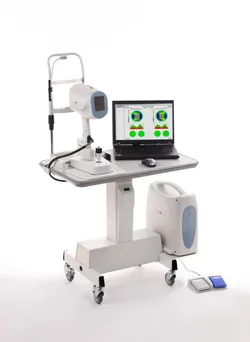 To this whatever the correct answer: The Spectral Domain or High Definition O.C.T. in it's short life has had made an Unparalleled Impact for the First Time revealing who is realizing Glaucoma often 11 to 13 years sooner than prior conventional means could elucidate and enabling us to act Medically to preserve non-reproducible at the moment precious retinal nerve fiber. It THE HIGH DEF O.C.T. tells us who is realizing Macular Degeneration and if this now determined Dry Stage is on route to Wet Stage and at what rate. Properly identified and staged what is the appropriate action antioxidants, Near Blue Light filters on spectacles, injections of anti-veg medication? Where an Epi-Retinal Membrane exists as an after event of age determined virtual shrinkage (syneresis) in certain persons: at what stage is the Epi-Retinal Membrane at? Will it be slow genesis or will it eventually create a large enough hole to bare photoreceptors and in turn massively wipe out our patients vision? Should we act now rather than later; here too The High Def O.C.T. provides time and again the needed answer to such a question.
Being one of the 3% to 5% of Optometrists (O.D.'s) to own a High Def O.C.T., it has freed My Right Hand that was once tied to my back in diagnosing and staging these important aforementioned diseases with my patients. I will act alone or in concert for my patients with respect to these diseases with needed medications/laser treatments/injections/surgical peels, Antioxidants/ Near UV or Blue Light blocking coatings and will FRONT LINE MY PATIENTS to the enroute FDA fast tracked drugs like Macuclears T.I.D. dosed mc-1101 for DRY MACULAR DEGENERATION arrestment & AERIE Pharmas' "ROCK" Glaucoma drugs AR-13324 and PG 324.
PG 324 will increase outflow of aqueous, stop back flow, increase blood flow and aid neuroprotection all in days work. It must be also pointed out that the High Def O.C.T. has progeny who scan faster 70,000 A scans/second in the case of the Avanti Wide Field versus 26,000 A scans/second. The Avanti's images are even more revealing and for the first time Blood Flow to the optic nerve can be measured at the very small posterior cillary arteries without injected dyes, allowing for future drugs to alter blood flow and preserve the precious fiber needed for sight. INDEED VERY EXCITING TIMES FOR BOTH DOCTOR AND PATIENT GOING FORWARD; IT IS EXCITING GOING TO WORK!